rhonda, from
my handbound books
has awarded me the
"arte ye pico"
blog award! thanks rhonda :) the rules for the award are as follows: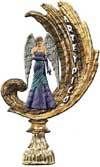 1) You have to pick 5 blogs that you consider deserve this award for, creativity, design, interesting material, and also contributing to the blogger community, no matter what language.
2) Each award has to have the name of the author and also a link to his or her blog to be visited by everyone.
3) Each award-winner, has to show the award and put the name and link to the blog that has given her or him the award itself.
4) Award-winners and the one who has given the prize should to show the link to the
Arte y pico blog
, so everyone will know the origin of this award.
5) To show these rules.
and so, to pass the award on, i present these five blogs:
danca, from
wear it like you mean it
jaye, from
thirteenth story
guylaine and isabelle, from
tomate d'epingles
anh, from
my closet diary
carol, from
quirky'nberkeley