i was just awarded first prize for my treasury entry to the trans-canada etsy team contest: best collection of canadian handmade goods! check out the details
here
.
an' i get lots of pretties, muahahahahaaaaa... okay, enough bragging. this actually leads me to:

the bookbinding etsy street team!
etsy has lots of awesome street teams, and i have not yet mentioned that there is now a bookbinding one as well! we have a lovely
blog
, a
shop
, an official
profile
on team.etsy, and a bazillion members forrealzyo!!!1!1one!
...okay, maybe not that last part, but hey, we're perfectly willing to take on that many! ;) the 60-ish members that we do have are pretty fantastic! check out this screenshot of one of our etsy treasuries to see some samples from our shop: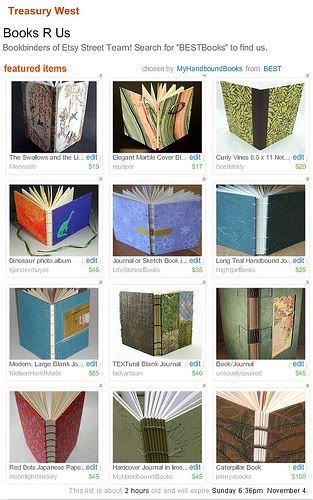 if anybody might be interested in joining, please contact er, well.. me, or go straight to our membership coordinator
rhonda
(
myhandboundbooks
). the main requirement is just that you are interested in bookbinding, whether as a bookbinder selling on etsy or simply as an appreciator of bookbinding arts on etsy! if you'd like more details, feel free to ask!
/end shpiel