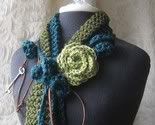 Dennice Mankarious - California - USA
WHO
(Your name, general description, any random bit of info about yourself, a vague sentence)
:
Dennice Mankarious, wife, mother, sister, daughter. fiber fanatic. perfectionist.
WHAT
(Tell us about your shop, the items you make)
:
i design scarves, cowls, shrugs, capelets, shawls, lariats and many other items. i have a wide range of fashion styles from high drama to urban prairie to appeal to everyone, i hope. i feel that accessories make the outfit, and are a perfect form of personal expression. i make my creations in hopes that whoever wears one of my items will feel self-confident and divine.
WHERE
(Why do you sell on Etsy?)
:
i sell on etsy because it's the perfect venue for my life style. it gives me a lot of freedom and the site is designed in such a fabulous way that you can give your shop your own personal style very easily. it has been an excellent learning experience for me and i have been very successful on etsy. plus, i'm my own boss. yippee!
WHEN
(When did you start making handmade items? When did you start selling on Etsy? Any tips for current/future sellers?)
:
i started selling my creations several years ago, but not seriously. i didn't become focused and serious until i joined etsy back in January of this year. my humble advice to sellers is to do your research, take pride in your work, take good photos and list frequently. etsy's wikki has wonderful articles to help everyone who wants to take their shop on etsy seriously. it's how i did it. i didn't have a mentor, i just read everything i could lay my hands on that etsy had to offer me.
FUN
(Whatever you feel like talking about. A favorite shop or item on Etsy, a website you think others should look at, why butterflies and toe socks should rule the world)
:
i have many shops and sellers that i adore here. i will say that leavesofglass, talula, boringsidney and bayousalvage are my top four. and they are all run by exceptional businesswomen.
Aaaand…RANDOM QUESTION!
If you could live in any shaped house (a round house, a hexagonal house...), what would you like to live in?
i think of all the shapes out there in this big, beautiful world i would choose a u-shaped house with squared corners. the inside of the "u" would be floor to ceiling windows overlooking the center of the "u" which would have a swanky pool and lounge area. yep. a girl can dream can't she?
Featured Items